Post by Lucien "Ishtar" Darcy on Apr 7, 2009 20:47:44 GMT -5
••Who am I to not be known?



Lucien "Ishtar" Darcy
[/size][/color]
♦♦I am a boy and I am about twenty-two years old.[/center]

••''Let Me Tell You Something Here...
[/font][/i][/size]
Interests:
[/font]
Sex

Secrets

Journaling

Teasing People

Readjusting

Songs/Singing/Humming

Dance
Fears:
Being Broken

The End of the War

The Future

Cutting His Hair

Being Useless

Being Unable to Smile

A Cage
Addictions:
Sex

Teasing Others

Humming

Whipped Cream

Personal Contact
Character's Position:
[/font]
••
''My Once Upon a time...
[/i][/color][/size]
Family:
Mother: Odette Darcy (deceased)
Father: Garrett Darcy, 48; currently a soldier in the Britannian military
Master: Nasim Kirill, 34; officer in the European Union
Description: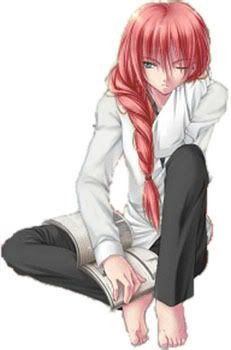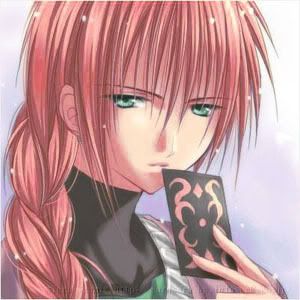 Name:
Lucien "Ishtar" Darcy
Age:
22
Height:
5' 6"
Weight:
109 lbs.
Gender:
Male
Day of Birth:
March 18
Blood Type:
O
Body Type:
Slender
Hair Color:
Red
Eye Color:
Forest Green
Birthplace:
Paris, France
Personality:
[/font]
The most notable thing about Lucien is that he's always got a smile on his face. Although this may not indicate that he's happy, it's hard to shake from his face. Having grown up under different rules than the rest of society, Lucien has a habit of being inappropriate at times. It would be understandable if this was accidental, but it's not. True, he sometimes forgets himself and where he is, but there are times when he purposely is too friendly with someone for his own amusement or comfort. Although not necessarily the happy-go-lucky type, Lucien often likes to tease friends. It amuses him to see people blush or react over things he used to find commonplace. Overall, Lucien loves life and is typically rather happy regardless of the situation. It's hard to depress him, and hope is something he always retains, but he has moments of sadness. There are times that he reminisces about his past and that has a tendency to bring his mood down, but never takes the smile away from his face.
Coming from such a different life style, Lucien has a 'black box' of sorts in his brain. It's a box that he keeps shoved far away from his active consciousness, but occasionally brings it closer if he feels that switching persona would be advantageous to him. Lucien's comfort zone still occasionally lies in obedience, and if unable to reconcile another action, he slips back into his submissive role. Typically Lucien knows how to use a blend of his previous occupation and his newfound freedom to function, but occasionally gets lost in the past. He believes his fate to be tied to the current war, and doesn't know what he will do when it ends and he loses his usefulness. Despite having been a captive, and perhaps still being one, Lucien fears captivity, and desperately desires to be useful to avoid a cage.
History:
Odette had always wanted to have children, but Garrett had been opposed to them, having no love of children himself. He loved his wife, however, and eventually agreed. Lucien's birth, however, meant Odette's death, and Garrett forever blamed the child. In an attempt to honor his wife's memory, Garrett tried to raise the boy. After ten years, however, he had had all he could take. His anger and contempt had grown so much for the boy that it was either get rid of him or kill him. Garrett sold Lucien to a man he worked with at the time in the European Union's small rebel force, Nasim Kirill. After that, Garrett defected to Britannia's forces in an attempt to further distance himself from his son and his dead wife's ghost.
Nasim took Lucien in and trained him to his liking both militarily and sexually. Lucien was taught to be subservient to Nasim, and never used the man's name. He had never been particularly fond of his father, having been able to sense the other man's contempt for him, but wasn't fond of his Master either. With no where else to go, and knowing no better, Lucien was every bit as obedient as Nasim had hoped. He molded the boy and had another friend personally home school the child so he would be free of outside influences.
When Lucien was thirteen, Nasim deemed him ready to begin serving the European Union. With looks that could pass as a girl, Lucien was the perfect bait for politicians or officers that the European Union was targeting. Lucien was both the spy and assassin. Some missions he was merely to be good and gather information, others he was to kill the one that took him to bed. Lucien operated under the code name "Ishtar", the same name as the Babylonian goddess of sex and war who was known for killing or wounding her many lovers.
Growing up Lucien was kept close to home so that Nasim could keep an eye on him, and for more personal reasons of course as well. When rumors of tensions between Area 11 and Britannia started brewing however, Nasim sent Lucien off on his own, trusting him enough to remain loyal. Lucien was hardly opposed to the mission if it meant opposing his father in Britannian forces, but admittedly was a bit unfamiliar with not being an assassin. Instead of his typical job, he was both a spy and a form of reinforcements to the Japanese rebels. After two years in Area 11, Lucien doesn't have a particularly strong allegiance to either the Black Knights or the European Union. He goes where he is useful, although he certainly doesn't mind being away from Nasim's rough treatment. In the Black Knights at least, he has some semblance of freedom. He's out of his cage for the moment, but still has a collar.
Goal or Dream:
Lucien desires to both continue and end the war. As long as the war continues, he is useful, but he's not particularly fond of the war itself. Ultimately, either option is fine so long as he has a purpose to live for and someone to serve.
••
'' Hey! I am not done yet...
[/color][/size]
Faction:
The Black Knights/European Union
Geass:
[/font] None
Geass History:
Not Applicable
••
'' Something is not quite done here...
[/color]
About you:
[/color][/center]
Login Name:
ishtar
Location:
Columbus, OH
Time Zone:
EST
Contact:
fabrythchild@yahoo.com or by PM
Brief example of Role Play:
[/font]
The vanity mirror reflected Lucien's almost empty expression as he sat before it, running a brush through his long red hair. He was tired and he hurt, but there wasn't much he could do about it at the moment. Now Master wanted him to come to bed. Satisfied that his hair was properly brushed, Lucien set the brush down and started to braid the locks over his shoulder. It was his nightly routine, but tonight two hands fell over his and stopped his braiding.
"I like it left down. You should know that." It was Nasim's voice in his ear, and Lucien nodded, sliding his fingers through his hair again to let out the braid. The same hands that had stopped his routine led him to the bed. The hands were oddly gentle as they unbuttoned Lucien's bed shirt while their Owner's mouth descended to his ear. "I have a job for you." Nasim purred before lowering to nip along his neck. His hands were soft tonight as they moved over his now bare chest, playing his body like a finely tuned instrument. One He'd tuned himself. "Rebels are gathering in Area 11. The Black Knights might be reforming. Aide them, and report back to me."
Master was being oddly gentle tonight. Lucien didn't know if He was reluctant to let him go (but then He would be even more rough with him), worried about the mission (but He hardly cared about his well being), or if it was completely unrelated. Regardless of where his Master's sudden tenderness had come from, Lucien wasn't complaining. He just nodded, ever obedient to his Master, and let his mind wander as Nasim used him as He pleased.
Area 11. That was half way around the world. Lucien hadn't been out of the country without his Master or a friend of His as an escort, and now he was being sent around the world alone. Did that mean He trusted him? Trust probably wasn't the right word. He probably just knew that Lucien was bound to Him. Where else would he go? What else could he do? He was all Lucien knew, and it was true. Still, Lucien was glad to go for more reasons that just to please his Master. It was different than this. Maybe better, maybe worse, but different was a good start. Maybe it would be a fresh start. All alone. Free. Maybe.
Role Playing Experience in Years:
I've been role-playing for 10 years or so. I started with a Gundam RPG, and have done a few anime-based games since. I have also been in two super/metahuman games. One is still running. My favorite games have been the fantasy games I've been in with original plots and original characters. As far as characters go, I usually find myself playing 'good' characters (with a few exceptions). Overall I think I mostly play girls, but I enjoy male characters just as much if not more. My favorite characters to play are guardians, protectors, especially when I have someone to play opposite. Other characters I enjoy are those with a secret to hide. Some terrible past or just something about them they don't enjoy sharing.
[/left]